WATER HEATER SUPER MIRAJ 12 GALLON - 50LTR - HORIZONTAL

Re-product is accepted if on non-description, the buyer pays the shipping costs; or retains the product and agrees with the seller on the amount of money recovered View details
AL Khatib Electric Water Heater
AL Khatib Electric Water Heater FactoryThe name (Mirage – Super Miraj – Steamex) began in 1970 and is known by its consumers as one of the biggest leading brands that makes life more comfortable and technically elevated not only in U.A.E but all around the world. A lot of care has always been taken in its design, the innovation and in respecting the environment.We manufacture branded water heaters which provide a complete range to satisfy the ever increasing needs of our customers.Our water heaters have been developed to give the best in terms of performance, design, reliability and keeping in mind the affordability. Our water heaters are produced using thicker gauge galvanized steel sheets for longer life. The safety and all other features are part of our customer assurance.We have combined the skills and expertise of our people, from supervisors to crew members, into cohesive, smooth-functioning teams guided by communication and personal pride in their work.ModelsModelGallonsTypeInsulationWarrantySuper Miraj12 gallon water heaterVertical HorizontalHigh density Glasswool2 YearsMiraj16 gallon water heaterVertical Horizontal/PUF insulation foam2 YearsStmex12 gallon water heaterVertical HorizontalHigh density Glasswool5 YearsStmex16 gallon water heaterVertical Horizontal/PUF insulation foam5 Years
Water Heater Specifications:
INNER TANK:The inner tank for Electric Water Heater is made of high quality heavy gauge thick hot dipped galvanized sheet with thicker zinc coating for long lasting life.
INSULATION:Thick high density polyurethane foam (PUF) by using two component polyurethane system (MB 140P) is filled around the inner tank for excellent heat retention, which minimizes heat loss and thus considerably saving on electricity bills.
HEATING ELEMENT:High quality Italian make, pure copper sheathed heating element (Thread in type) permits rapid thermal exchange and easy to replace.
THERMOSTAT:1- Single safety thermostat: Automatic- Plug in type Italian thermostat helps to control water temperature inside the boiler with adjustable temperature setting, maximum up to 80 o c.2- Double safety thermostat: the Italian thermostat is combined with the temperature regulator; the system has a dual overheating control mechanism which cuts off supply of power automatically in the failure of the main thermostat.
OUTER BODY:The outer body is made of superior quality steel, with high gloss epoxy Polyester (white) to give superior finish and long lasting life.
SAFETY VALVE ( OPTIONAL):Twin function non-return cum safety valve which maintains pressure inside the boiler, hence prevents expansion / explosion of inner tank, in the event of thermostat failure. Also this valve helps to retain water, inside the tank, thereby prevents draining of water and element burnout.
SpecificationsSuper MirajMirajStmexTank Volume12 Gallons16 Gallons12/16 GallonsDimensions (H X DIA.)500X380680X380500X380**680X380Recovery at a 90°F Rise6.8 GPH6.8 GPH6.8 GPHWater Connections½ inch NPT½ inch NPT½ inch NPTMax. Working Pressure7 Bar.7 Bar.7 Bar.Rated Voltage220v AC / 50Hz220v AC / 50Hz220v AC / 50HzThermostat Rating15 Amps / 73C15 Amps / 73C15 Amps / 73CFunctional-77 C-77 C-77 CInlet / outlet Pipe Size½ "(15NB) BSPT½ "(15NB) BSPT½ "(15NB) BSPTInstallation / RockwallinstalledinstalledincludedPhaseSingleSingleSingleHeating Capacity1200-1500 Watts1200-1500 Watts1200-1500 WattsMax. Operating Press150 Psi150 Psi150 Psi.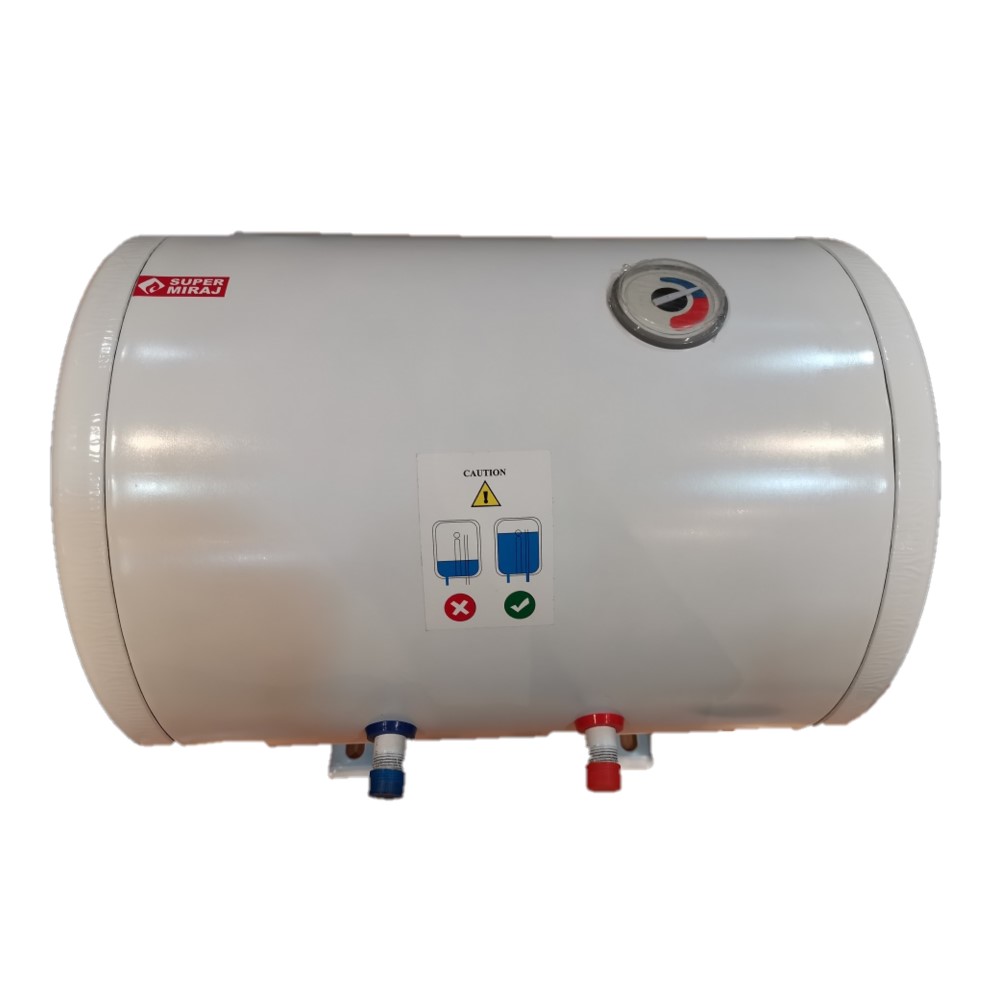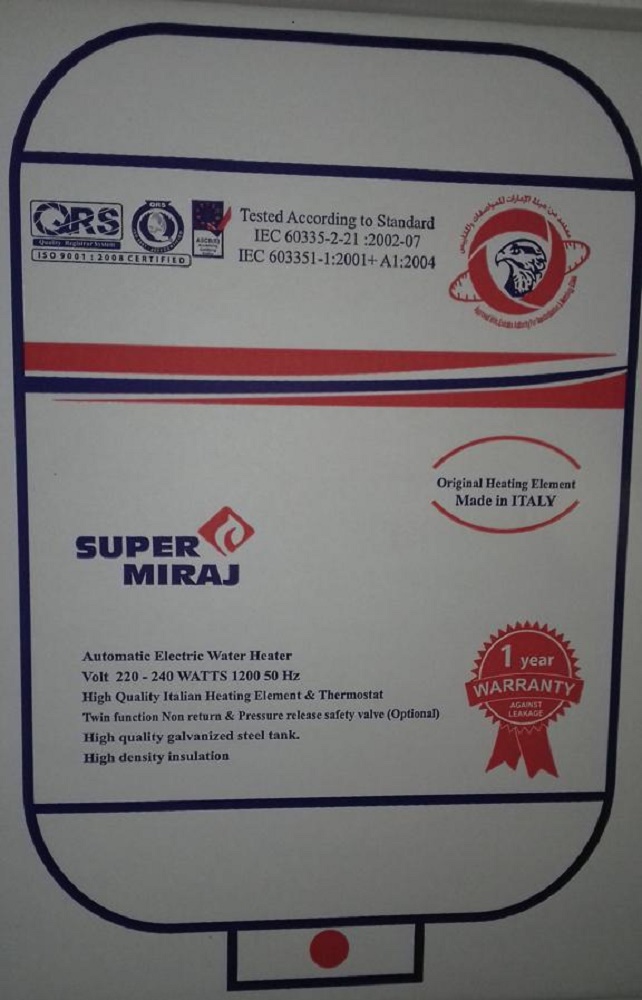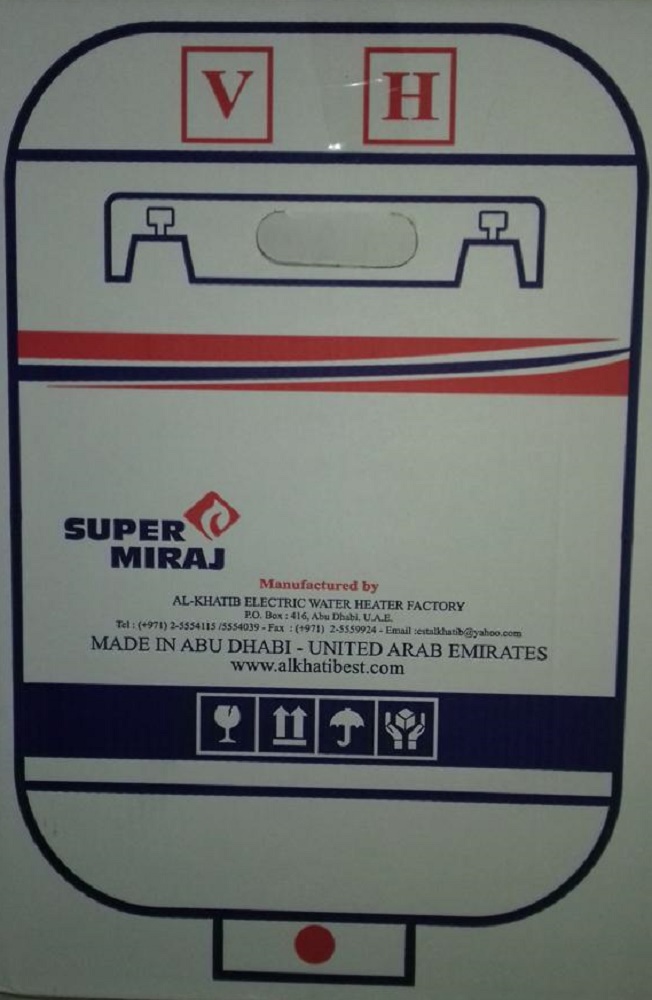 Tags: water heater, electric water heater, miraj, super miraj, al khatib, water heater 80ltr, water heater 16 gallon, water heater 50ltr, water heater 12 gallon, sanitary ware, heater, vertical water heater, horizontal water heater