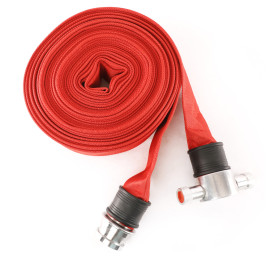 Fire Hose (Layflat) FIREX Fire Hose are the highest quality and are widely used by fire brigades and industrial users. Available as either coated or uncoated.75ft in lengths up to 100ft, and including 150 ft (450cm). Fires fire hose is ideal for wash-down and can be supplied in Red and White. Firex fire hoses are coated comp..
Fire Hose Properties ALL synthetic, EPDM Rubber lined Fire Hoses Construction Outer Jacket woven with high tenacity synthetic yarn on fully automated circular weaving looms. Inner Lining Ultra-light weight synthetic EPDM Rubber lining having low friction loss and very high ozone resistance Characteristics - &nbsp..
UL/FM listed Fire Hose, Single Jacket, WP 250PSI, BP 750PSI, 2.5"/1.5"CONSTRUCTIONUL/FM FIRE HOSE is the ultimate in quality, municipal grade fire hose. This hose is constructed of single jacketed spun synthetic polyester wrap threads and polyester filament filler threads with Hot Melting Adhesive andEPDM lining. Its engineered design guarant..
Showing 1 to 3 of 3 (1 Pages)